The Look of The Green Knight
The featured Department Heads and Technical Specifications behind the look of The Green Knight collaborated closely with the writer and director David Lowery. 
Featured Department Heads
A24, Ley Line Entertainment, and Bron Studios financed The Green Knight.
Technical Specifications
• Runtime: 2 hr. 10 min (130 min)
• Aspect Ratio: 1.85 : 1
◦ Camera: Arri Alexa 65, Arri Prime DNA Lenses
◦ Laboratory: Cirrus Media, Bray, Ireland (digital dailies)
FotoKem Creative Services, Burbank (CA), USA (digital intermediate)
• Negative Format: Codex
• Cinematographic Process: ARRIRAW (6.5K) (source format)
Digital Intermediate (4K) (master format)
Dolby Vision
• Printed Film Format: D-Cinema
• DCP Digital Cinema Package
~Adapting Old Works for a Modern Audience~
A story is a living, breathing thing that may endure for centuries on end, growing, changing, and evolving with time, space, and various cultures. While some stories last for eons, many others perish quietly into obscurity. The epic 14th-century Arthurian poem Sir Gawain and the Green Knight is a Middle English composition concerning the infamous King and his fabled Camelot, but the identity of the tale's author has descended quietly into anonymity. 
Today, Hollywood producers are obsessed with remakes upon remakes, not to mention, sequels, prequels, and trilogies (oh, they love their trilogies!). Each iteration adds its own style to the source material, whether remaining largely intact or merely sampling certain elements and made more savory for their contemporary audience.
The same rings true for adaptations of really old stories; just look at Troy. It's not quite the Iliad but Hollywood worked its magic to take a popular ancient epic and adapt it into a modern visual blockbuster full of action, romance, and tragedy.
A New Kind of Look
But the thoughtful plot and cinematography behind The Green Knight part ways from traditional Hollywood narrative structure, along with its valiant battles and rescue plots. As opposed to Excalibur or King Arthur, David Lowery's The Green Knight shares more in common visually with his earlier film A Ghost Story by way of conveying existentialism, a pleasing lo-fi aesthetic, a keen sensitivity to nature, and an unlikely ending that leaves the plot open-ended. 
SPOILERS are ahead as we explore the film adaptation of a knight's chivalric journey that includes spooky ghosts, roaming giants, an affable talking fox, and an otherworldly green knight. 
This is The Look of The Green Knight. 
~The Tale Behind the Tale~
The visual language of film is entirely subjective and engineered by the vision of the filmmakers as opposed to the descriptions of written prose by an author or poet. Some audience members will critique their beloved source material against its film adaptation where you'll hear, "Why was the movie different from the book?" But in defense of filmmakers, movies are an entirely different medium than narrative prose, built by an audio-visual experience. 
For example, comparing the MacBeth film to Shakespeare's original play is like saying you prefer Sophocles' Oedipus to the painting Oedipus and the Sphinx by Gustave Moreau. It makes no sense. They're two separate artistic mediums that allow you to experience the story in entirely unique ways. Fear not, there's no artistic sin in adapting a classically beloved tale for modern audiences! 
On the contrary, it's a breath of fresh air when Hollywood takes a chance on something new—even if it's based on something very old. The Green Knight isn't a line-for-line adaptation of its source material, but this quality doesn't make it any less poetic. Instead, the film injects cinematic poetry into the story that appeals less so to its original Anglo-Christian audience and more to a coming-of-age journey that resonates with viewers today. 
Adapting The Green Knight
When director David Lowery first set out to adapt Sir Gawain and the Green Knight, it wasn't meant to be an exact remake; in fact, all that he initially wanted was to use the source material as a launchpad for an original story about a knight on a quest. Something he could shoot nearby in Texas. In his mind, he always loved Willow and Lord of the Rings and wanted to dip his toes into the fantasy genre. 
Surprisingly, it wasn't until 11 months before production when he fully committed to adapting the early Arthurian tale into a movie. 
LOWERY: "I picked up the poem and started re-reading it. That's when the obsession took hold; I went from thinking it was a jumping-off point to being completely enamored with the text and wanting to translate it to the screen with as much care and affection as possible."
An Open Mind
When first writing the script, Lowery wasn't sure that he would get the backing to make his project. Luckily, Lowery's efforts paid off. He and his team were scouting locations three months later and completed production about five months after that. Most of the crew was local with the exception of a few American department heads.
The film was originally set to be made for $9 million since it was the same number that Jim Jarmusch spent on his 1994 film Dead Man with Johnny Depp. However, he didn't account for inflation. Back when he envisioned simply a knight on horseback riding across a landscape, he never anticipated the glaring expenses necessary for castles and large set pieces. And even though the eventual budget was more than imagined, The Green Knight was low enough to still qualify for the Independent Spirit Awards.
~Characters~
It was in the countdown to the release of The Old Man & the Gun when Lowery started writing The Green Knight. Since he had just completed a film in which he deemed "the kindest film possible" and he believes should have been rated G, he wanted to do a rougher film that would stick in people's throats. This time, he wanted to work with an unlikeable protagonist. 
So, going against its source material, Lowery was determined to tarnish the legend of the virtuous knight. Then, he wanted to see how such a change would affect the rest of the story. In his mind, the violence, sensuality, and lustiness already filled the text. This fueled his excitement to challenge the central character's morals and dig deeper into these themes. 
Lowery and his team of trusted collaborators discussed many possible character motivations. As the DP Andrew Droz Palermo notes, "I think an actor often wants to understand how to paint the scene with their performance." This is especially the case when adapting characters that differ profoundly from the original source material.
Morgan le Fay as Gawain's Mother
In the original tale, Morgan le Fay is Arthur's antagonistic cousin who uses her witchcraft to interfere with the great king and his heavenly round table of idealistic knights. But in The Green Knight, Lowery decided to repurpose le Fay (Sarita Choudhury) and make her Gawain's mother instead. This would in turn create a complicated relationship between mother and son. That to Lowery was reminiscent of his own, with the need to stand on his own as an adult.
Changing Morgan le Fay to Gawain's mother evolved following the rough cut after the department heads watched Lowery's vision on the big screen. Then, during their pickups, they went back to shoot more scenes with Sarita and construct additional dimensions to her character. 
PALERMO: "My read [on the film] is about Morgan le Fay and how far a parent will go to make a child a better person. A story of a mother forcing her son to come of age." 
~Locations~
The Green Knight may have been more expensive than A Ghost Story, but Lowery wanted the same experimental vibe, and, at least at first, intended to do it on a bargain budget. But as his ambition grew so did the budget. According to Lowery, as he scouted locations he kept wanting bigger and better castles and structures. 
LOWERY: "Eventually, that got the best of me. It was a case where our vision for the film was ultimately far bigger than the number we thought we could make it for. And bigger than what we did make it for. We pulled off something we shouldn't have been able to pull off."
The Green Knight was shot entirely in Ireland between March and May of 2019 followed by reshoots in September of the same year. It wasn't necessarily a historic medieval film they were after, but rather something fantastical and steeped in historical details. The major filming locations included Ardmore Studios, Cahir Castle, County Tipperary, and Charleville Castle in Tullamore, County Offaly. 
Building and Designing
Production Designer Jade Healy and her team built many of the sets from the Great Hall to Winifred's Cottage (Holywell). Lowery prefers the actors to be immersed in the world. He ensured that they dress each setting for all 360 degrees.
HEALY: "We weren't doing like a ton of effects; we knew that we didn't have the money for set extensions. So for the Great Hall, it was important that we built the ceiling; the whole thing was an enclosed set. We weren't gonna build it up to here then make it bigger. So that was the conversation, like, 'How big can we go?'"
Lord and Lady's Castle
Since they also couldn't build something to the scale of Lord and Lady's (Bertilak castle), they found a Gothic Revival palace that was heavily decorated including its high ceilings that were intricately carved and designed.
The Crooked Tower
However, there were challenges. They had to become even more creative than usual when it came down to building the Crooked Tower. At first, they struggled to find a location that would work but discovered a barn with a stone wall that was hundreds of years old. They quickly replaced an adjoining wall and added a stone floor and constructed a fireplace. This would be repurposed later for the corridor scene where Gawain is running. 
The Green Chapel
Some of the locations just required resources to spruce up their intended vision. The Green Chapel, for instance, was an overgrown chapel next to a castle. Healy and her team built the inside with the river, moss, greens, and steps.
The Brothel
Similarly, the interior of the brothel was filmed in the Braymore castle. It was rebuilt from its foundation as a reproduction of the original. It was raw and empty with dirt floors. The production team added stone for the look that you see on screen. 
Listen to the full interview with PD Jade Healy and DP Andrew Droz Palermo on NextBestPicture.com. 
~Wardrobe~
The story of Sir Gawain and his travels may have been written in the 14th century but the tale itself takes place sometime after Rome's fall (but could be as late as the 6th century). Therefore, the wardrobe had to reflect an even earlier time period. The film's costume designer Malgosia Turzanska decided to take a deep dive into the period and how clothing worked. 
Turzanska starts her process by sketching out her concepts for the characters. She does this no matter if they're sourced from existing archives or designed specifically for the film. This approach helps her get to know the characters so they feel more original and less borrowed. She also believes that this method helps her to better articulate her ideas to the rest of the creative team. 
Gawain's Cloak
The wardrobe in The Green Knight complimented the gray and murky-green color palette of cinematographer Andres Droz Palermo. Particularly of note is the skriking yellow cloak that Gawain (Dev Patel) wears on his travels, which stands out on the terrain.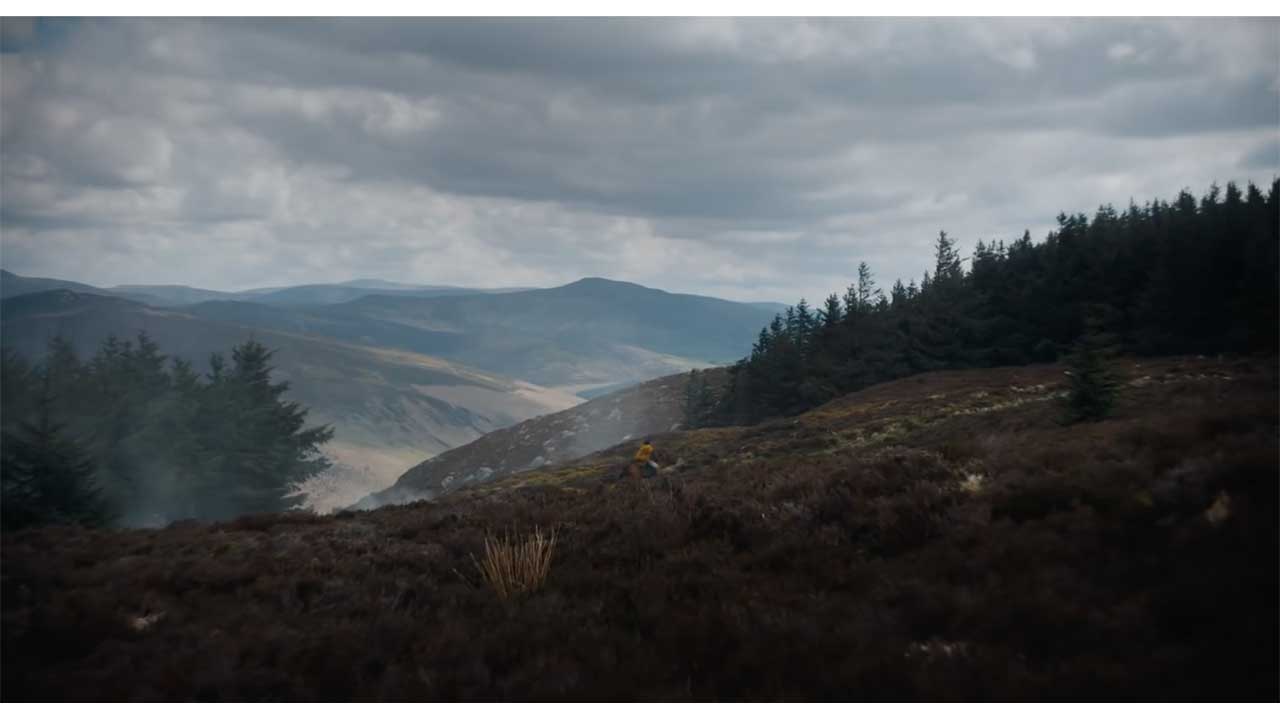 TURZANSKA: "The cloak was described as yellow on the script, but we were looking for the right shade of yellow," says Turzanska. "We ended up picking one that is essentially the color of gorse, this invasive Irish plant that was all over the place. So it was kind of nice that we were connecting the landscape to the costumes in that way. What I also love about the cloak is that it is quilted in a shape of a magnified thumbprint. So, it goes back to that idea of the individual and free will."
Essel
However, when it came down to Alicia Vikander (Essel/The Lady) and her two roles, it was a fun challenge for Turzanska since they are on opposite sides of the class spectrum. Where Essel's dress is very simple and rectangular, as the Lady, her wardrobe was inspired by the neo-gothic castle where she resided. 
As part of Turzanska's research, she found that townspeople who were prostitutes or considered unclean were forced to wear bells on their clothing to alert citizens of their presence—reminiscent of a Scarlet A. When she told Lowery about it he was so pleased that he wrote it into the script to Turzanska's delight.
The Green Knight
Nature played a significant role as a theme when not only depicting the locations outside of Camelot but also the characters and their wardrobe. The most obvious example of nature's influence is in the portrayal of the titular Green Knight himself. 
LOWERY: "If you go back and read a lot of the analyses of the original poem, the first interpretation of the Green Knight himself is that the color green represents nature in a pagan sense: the confrontation between nature and civilization, or nature and religion.
As someone who has a very ecological mindset and wants to bring those into my work, I felt that I should lean into that interpretation as hard as I could. The Green Knight is a distant cousin of Elliot from Pete's Dragon. Both films deal on a subtle but important level with the way in which mankind has encroached upon nature and it can take back what belongs to it."
The process for constructing the look of the Green Knight started on the page with an illustrator to help inform the wardrobe and the mask and prosthetics. Turzanska wanted the Green Knight to feel ancient and much older than anything else in the world of the movie. With that idea in mind, she based his armor on antiquated armor so corroded that you can no longer tell the shape of its plates. Tree bark was used for his cloak. This may come as no surprise as it would seem that he is part tree. 
TURZANSKA: "We just stitched pieces of this textile together to make this giant cloak. I actually ended up rubbing baby lotion into it to shape it into what I wanted it to look like. It was a labor of love."
Historical Context
For the inscriptions on it, she used a dead language known as the Sabaic alphabet. It's a South Arabian language spoken before the time the story takes place.
There was an overall earthy quality that Turzanska wanted for the tones and textures of the costumes. She believes that it was the costumes' simplicity that helped tell a more authentic story. However, as a committed vegan, Lowery's team avoided the use of real leather. So, Turzanska was tasked with finding cruelty-free alternatives such as coconut leather, mushroom leather, pineapple leather, and the aforementioned tree bark. 
The Lord and Lady
Even though Joel Edgerton (Lord) and Vikander (Lady) dressed according to their high status with certain opulent jewelry and skins, Turzanska still held to her original view of simplicity. 
King Arthur & Queen Guinevere
Turzanska collaborated in tandem with Lowery and production designer Jade Healy in developing the halo-crowns, representative of the halos in early Christian art, as well as South American designs, for King Arthur (Sean Harris) and Queen Guinevere (Kate Dickie). 
Inspiration for their costumes originated from the illustrious eminence of Arthur's legend. They needed to appear as divine, saintly beings. For example, panels featuring scenes of his battles adorned Arthur's cloak. And Guinevere's wardrobe contained reflective charms that shimmered in the candlelight. 
TURZANSKA: "I imagined [their garments] were given to them by grateful people who they had saved, or whose enemies Arthur defeated, and then they're barely able to move under all this gratitude."
Turzanska had a metal station in her costume workshop to create the materials like the charms on Guinevere's dress. Then, she went even more granular with the process to the point where she researched graves. She discovered how metal was found, and how archaeologists attempted to recreate the shape of clothing from the placement of pins and buckles. 
Take a deeper dive into Malgosia Turzanska and her work on The Green Knight with her interview by Vogue. 
~Camera~
The Green Knight was the seventh film Palermo had lensed. The talented DP was once a director himself but in the last 6 years turned his focus specifically to cinematography. Palermo and Lowery's first collaboration was on A Ghost Story, where they hit it off and then developed even further on the TV series Strange Angel. It was near the end of the show when Lowery confided in Palermo about his aspirations for a medieval epic. 
Generally, Palermo's lookbook is full of scout photos, things that he experienced, and personal notes. He has Flesh and Blood, Rembrandt paintings, The Valley of the Bees, paintings by Dewitt, The Devils, Willow, tiny characters within a massive landscape, glass matte paintings, crossing a bridge with a great chasm underneath them; a mix of high art and low art. 
The Green Knight vs Other Hollywood Adaptations
Where Excalibur uses more magical visuals, The Green Knight differs by going for something more grounded and historical while at other times dialing up the "magic." 
PALERMO: "We took the license to go there a little more magical with our limited means. We could go to beautiful Irish landscapes and we would have something when we were done. We could roll the camera and we would have it whereas I think of a film like Borman's [Excalibur], they were building a lot of sets and they actually used the same studio we had in Wicklow, Ireland which was a funny bit of overlap and felt great walking on the shoulders of those giants. Actually, our gaffer was the son of the gaffer of Excalibur." 
The Composition of The Green Knight
Since their earliest conversations, Lowery and Palermo went into the project with a large format in mind. They decided to shoot on the Arri Alexa 65 with Arri DNA Lenses as well as some Tokinas. 
PALERMO: "[Lowery] threw down a very interesting challenge that I don't know that I fully understood his meaning or did he necessarily understand the ask but he said that he wanted this movie to feel 3D without being 3D. And I kind of teased that every so often and I would pose the question: 'Do you mean like this? Do you mean like that?'
For me, that started to feel more and more like I wanted very wide, very dynamic frames where something could be very large in the foreground. Although our subject might be small in the midground. So, there would always be a push and pull about size within the frame, even though everything could be sharp from edge to edge, and that sort of got us on a path to It Chimes at Midnight, which is a very beautifully lensed movie, and very dynamically framed and composed." 
In the end, The Green Knight does stray from It Chimes at Midnight in this sense as it is "quite soft in many scenes" according to Palermo. Still, he took his challenge with the notion that the size within the frames could feel large and dynamically framed close to the foreground. 
Visual Techniques
Palermo also took inspiration from The Green Knight's wondrous sound design to help him hold the visual experience. For example, when the Green Knight is present, the camera is always looking up at him. It shows his immensity. That's the most foundational thing that he could do, visually speaking, while the sound design conveys his weight and substance. 
The Long Shots
There's also some trickery. If you watch one of the Lady's longest shots, you would notice a vignette where the entire background fades away. The old woman sitting next to her with the blindfold completely vanishes. The duration of the shot is so long that the viewer hardly notices. Gawain feels only her piercing eyes as the room drops out and nearly vanishes. 
When Gawain leaves Camelot, he travels through Wicklow, Ireland in "The Featherbeds" on a path mainly taken by sheep. It's a really beautiful, high mountain area. Palermo and his crew followed Gawain (Dev Patel) on horseback with a camera on a truck. They tried to make the shot go as long as possible. The way that Dev's posture changes over the course of the shot is telling of his character. At first, he's coming out of Camelot, so proud, not even engaging with the kids. He thinks he's too cool. But by the end, you could feel his posture just curling in on himself. It's the movie in a nutshell, all in one shot. 
PALERMO: "It's so fun to shoot those kinds of shots. When you get it and you have it, you just feel. You can't do it again. Sometimes on set, on the 16th take you might get it. But, then the director wants to go again to work on something else. Or, maybe the cast wants to go again to work on something. But when you have a shot like that and you get it, it just feels so great. 
360-Degree Shot
They shared the same feeling for the 360-degree shot where Gawain turns into a skeleton and then back to himself. It took a little dance to get the exact rhythm coordinating between the grip pushing the camera, rotating on their remote head, placing the skeleton, and then Dev hopping back in the shot. Likewise to the shot where Dev is on horseback, Palermo and his crew happily rejoiced when they finally nailed it. 
~Color and Texture~
The color and texture of The Green Knight place the viewer into the film alongside Gawain. There's a scene when Gawain is traveling with his Fox friend and it's the first time we notice the giants. A hand reaches over the mountain and he sees them way up in the clouds. This is before the ascent where he's more at eye level with them. (Skip ahead to the VFX section to see how Weta Digital helped create this effect.)
Earthy & Wet
However, down in the mountain and out in the valley, the filmmakers dealt with a torrential downfall of rain. On just the second day of production, the shot wasn't even on their schedule. But, they capitalized on the excitement in the air and went for the shot. By the end of the day, Palermo was pouring water out of his boots, but the results were beyond rewarding. With a real texture and soaked lens, we as an audience felt what Gawain experienced. Drenched and hungry with no end in sight. 
PALERMO: "It is grounded. I wanted it to feel wet and sticky and feel the fog and feel the wind. I really wanted to know what it felt like to be on a journey in a really intimate sense. And I think to do that, you can't be fully in a magical world or it just doesn't feel real. It doesn't feel grounded." 
Amber Light
The amber tint at the end of the film presents a feeling of foreboding and conflict. It was an idea that Palermo had been massaging throughout pre-production. 
PALERMO: "That was sort of born out of my memory of Storaro's look of Apocalypse Now. The end of his journey when he's meeting Colonel Kurtz and in the way how feverish that felt and how hallucinatory and psychedelic. I never revisited the shot, but I just kind of kept going off what my memory was, or maybe what interested me now as I was coloring it.
I kind of was looking towards the beginning of the movie like, how do we have this movie kick off with a world where we understand that magic exists? And how can I weave that through quickly without being over the top with VFX or anything? It felt to me that when the witches were together that there could be a presence of green again. They were this sort of ancient magic that wasn't Christian and more pagan. That was sort of another kind of foothold. 
Palermo notes how FotoKem has been a pillar of support his whole career. Working closely together, they made it possible for him to push his ideas to the next level. 
~Lighting~
The Green Knight really shined through its fantastical imagery by simply relying on real landscapes in Ireland. The lighting outside was natural to Cinematographer Andrew Droz Palermo's liking, with a real fiery sky and sunset with the color of the subject. Palermo prefers to work with real environments as opposed to relying on CGI for such otherworldly landscapes. Nature is compelling and bizarre enough. 
PALERMO: "The Irish landscape just was full of riches. We got some great weather for some of these scenes. And, it's really a real joy to shoot such beautiful landscapes."
Ancient Night Exterior
This vision of light (or lack thereof) even permeated into other moments in the film, such as the night Gawain stumbles upon St. Winifred's cottage, Holywell. 
PALERMO: "I wanted to put as little light on the screen as I could [for the interior of St. Winifred's Cottage], while you could still understand what was happening. I just loved that I kind of had to lean in. It reminds me of the way when you wake up in the middle of the night. We need a second sometimes to get our bearings. And I really wanted that feeling to feel very startling like there's a presence in the room that he wasn't anticipating.
And that's often what I think of the interiors in this world in general. They would have been very dark, very drafty, and cold. And if you weren't of the upper class, you wouldn't have had a million candles to illuminate your house. You would have the daylight and then when it was gone, it's dark, except for your fireplace maybe. And so I kind of wanted to lean into that."
Natural & Magical
Typically, lighting night exteriors can be tricky, especially when you're trying to make it feel both natural and magical. Unfortunately, there weren't any street lights available in the 6th century. But with the right conditions and weather, Palermo and his team were able to light the night to feel like a time in an era long past.  
PALERMO: "I would try to find the feelings that I was looking for in different teams and through David's suggestions, maybe when [Gawain] goes underwater, we start to hit him with lights, you know, and St. Winifred's pond that these lights come on and another light comes on. And that was his idea." 
Candle Light
As their visual mood board, they used references from other films. For example, inside the castle when the queen gives a speech about the color green, the lighting is candlelit. This was inspired by the Russian film War and Peace. Palermo saw it early in pre-production and there is one scene in particular that struck him as something to crib. In the end, it looks nothing like its reference but worked for their purposes. 
~VFX~
The film's approach to magic is very unique and less polished than what you would expect from other Hollywood films. And yet, the magic felt in the film was one that felt ancient yet natural and hard to decode. Where earlier films like Excalibur made the sword and armor sparkly, The Green Knight went another direction. 
PALERMO: "The thing I like even about the magic that was something that we were eager to do is how do you make it feel earthy? Even they are doing magic (these witches). The leaf that grows after they plant the rune in the ground. I saw various iterations of that and it just never felt tactile enough.
It always felt a little magical, like a little too CG, a little too beautiful. And David and I kept saying that we wanted it to feel like stop-motion or a timelapse of a plant growing. So, it's kind of shaky as it's going, and that it feels a little handcrafted almost like it was stop-motion. I think Nicholas Bateman was the one that cracked that finally, and I just loved that visual effect of that leaf growing because it's that tactile feeling that I just love and was after and he nailed it." 
A Subtle Approach
David Lowery worked with Weta Digital on a few of his previous projects that include Pete's Dragon and A Ghost Story before The Green Knight (as well as his upcoming film Peter Pan and Wendy). Lowery's VFX supervisor at Weta was Eric Saindon who helped him shape the characters and landscapes of his fantastical world.
SAINDON: "It's the perfect type of movie for visual effects. It goes back almost to The Lord of the Rings. But it's hard to believe that the first one was only 250 visual effects shots. So it was similar to that where we got to work with plates all the way through and add to it to help David tell the story, but not make it about the visual effects."
The Talking Fox
Weta synced up with Lowery's specific vision of "a lighter footprint" for how to convey magic in the film. Working with practical elements, the VFX was more about subtlety with the environment and set extensions as well as a talking fox that is strikingly similar to a fox from a Sigur Ros music video. 
Yes, the Fox was absolutely CG but also needed to fit into the realistic aesthetic of the mood and setting to avoid the look of animation. Lowery provided reference footage for his fox (and perhaps he, too, is a fan of Sigur Ros). Although, he made his version thinner and more wild with matted fur. 
SAINDON: "We broke the reality a little bit with talking while looking physically correct. We also got this great reference from a store that had a poorly stuffed fox. We had that on set as a lighting reference, but David got so used to it that he had us incorporate some of the matted fur and asymmetric look so that it fit into the plates better."
A Timeless Look
Weta developed the medieval city and castle extensions and worked closely with the composition to make it appear as old glass paintings with aged imperfections and variations of lighting. 
SAINDON: "It was fun to make this film look like it came out 30 years ago when you couldn't replace an entire city with CG. We took an actual render and flattened it out and added lighting imperfections to the back and the bounce of multiple light sources. It had to match the cinematography [of Andrew Droz Palermo], of course, but you also needed to add these subtleties without making it look like a bad comp."
In-Camera Effects
Weta took the concept of the female giants walking across the foggy valley in Lowery's storyboard and then photographed their actors on a green screen from every angle, shooting them with high-speed cameras at 90 frames per second. From there, they took them "as previs" and used New Zealand's valley environment and mountains to scale the proper size. This wasn't CG but rather in-camera effects and stitching together environments. 
The ancient appearance of the Green Knight (Ralph Ineson) was mostly costume and prosthetics by Barrie Gower. But, he also benefited from CG magic provided by Weta. This involved the CG head that Gawain chops off at the beginning of the film. Then, they provided the effects on the Green Knight's face later as it morphs into the faces of other characters. 
To learn more about Weta's involvement in The Green Knight as well as Nicholas Bateman and his Maere Studios, check out Indie Wire's full article.
Favoring Practicals
But, just how VFX from Weta helped enhance the film, it's equally important to stress the balance between practicals and CG. In an industry that relies heavily on CG to detrimental proportions, often dating the film within a few year's time, The Green Knight will endure with a sense of timelessness. And it was Lowery's collaborators who helped him realize such a unique vision. Palermo captures the essence of this in an anecdote about the green sash. 
PALERMO: "The sash was the brainchild of our costume designer Malgosia [Turzanska]. I really loved the way that she made the interior of that sash feel like intestines. It felt bloody inside when they wrapped it up. We used real gold or golden thread. That felt nice to see in macros, they're stringing it, and that montage.
We set the scene up where the women basically made it in front of us in a couple of takes. I just set the camera on a little jib and tracked along. And I could go down from the rune as they were wrapping it in the sash and then tying it up and watching them tamp in some gold. In that way, it just kind of felt like we were capturing a process, which they were in fact making the sash. [It was] more grounded as opposed to fully magical and something that might have been CG in a different movie." 
~The World~
Each factor from the wardrobe, characters, and location to color and texture helps illustrate the ambiguous Arthurian world displayed in The Green Knight. But there are also larger themes at play, such as life and its inevitable counterpart death. Nature represented by the Green Knight and the waning of civilization and Christendom visible in the sickly Arthur and Guinevere is particularly revealing of the fleeting essence of life. 
Life & Death
Characters experience loss at various times throughout the movie, each more profound than the last. With the loss of the Green Knight's head follows the loss of Gawain's innocence and the loss of his supplies in the forest, the loss of the Green Knight's ax, the loss of his companionship in the Fox, and the loss of Gawain's world at the end, which turns into a sequence reminiscent of The Last Temptation of Christ. 
LOWERY: "Loss is a beautiful thing; it's a terrible thing and a sad thing, but it's a necessary thing. One day we will lose all that we hold dear. In my attempt to make peace with that, I've tried to approach the idea of loss, the idea of death, the idea that all we know will one day come to an end, with a sense of peace and appreciation. I try to find meaning in that loss. I want to gain something from that.
Death is on my mind a lot these days. I really try to embrace the goodness of death. I wanted the end of this film to be a happy ending. Maybe Sir Gawain gets his head cut off two seconds after the film cuts to black. Or, maybe he lives a long life and dies of old age as King Arthur did. But regardless, he will come to an end, he will die one day. What's important is that he's arrived at this place where he can face that inevitability with goodness in his heart. That is how I try to approach the world."
A Look All Their Own
The film succeeds in taking popular visual practices in other infamous works but avoiding the pitfall of replication, and instead, using those techniques to make something entirely their own. That's the secret of art. Other films, like Joker, serve more as a ballad to a favorite filmmaker (like Scorsese) but never truly take their beloved references to the breaking point where they become something entirely different. Fortunately, The Green Knight doesn't suffer that same fate. 
PALERMO: "I really am quite fond of the sequence at the end of the film. I like to think of movies often kind of like being on a river. And, I don't really want to feel bumped. I just kind of want to keep moving and I don't want to be taken out of the movie ever.
That sequence I feel it just sucks me in every time even when I would color it. I would just start watching the movie again. You know, even though I'm trying to be very technical, suddenly, I'm just watching it and I can't help myself. And I'm taken in by the images and the performances and the setting. So that sequence there's some alchemy there that it's kind of unquantifiable." 
The Look of The Green Knight
The Green Knight serves as an otherworldly expedition recontextualizing the journey of a famous Arthurian knight but turns into something more prescient through its visual language on the screen. But on a mid-tier budget and limited resources, you may be wondering how The Green Knight pulled off what it did. One can only surmise that it had something to do with a dedicated group of department heads who had established a working relationship on previous projects, were creatively comfortable with one another, and allowed themselves time to nurture their biggest ideas in order to make something that will truly stand the test of time. 
https://www.filmmakersacademy.com/wp-content/uploads/2021/12/The-Green-Knight_Thumbnail.jpg
527
1000
Filmmakers Academy
https://www.filmmakersacademy.com/wp-content/uploads/2021/10/Filmmakers-Academy-Filmmaking-Courses.svg
Filmmakers Academy
2021-09-19 15:00:50
2023-01-31 20:02:12
The Look of The Green Knight