Top 5 Filmmakers Academy Courses & Lessons
Whether you're trying to learn filmmaking free from a classroom or want to build upon what you've learned in film school, Filmmakers Academy is your best bet for real-life knowledge from industry experts. We give you the kind of practical education that you just won't find from other online filmmaking courses. Filmmakers Academy is also an official partner of the Academy of Motion Pictures Arts and Sciences for its Academy Gold Rising program.
Praised by pubs like Variety and Cinematography World and featured as a trusted resource on British Cinematographer's BCinePlayer, Filmmakers Academy produces everything from filmmaking courses for beginners to advanced techniques for seasoned professionals.
OnlineFilmmakingCourses.com not only declares that Filmmakers Academy provides content not found anywhere else, but they "haven't seen this type of content available online before."
Below, we list our Top 5 courses and lessons preferred by Filmmakers Academy All Access members!
TOP 5 COURSES 
Want to know how to start learning filmmaking without the cost of film school or relocating to a production city? The online filmmaking courses below share precious insights from industry-leading filmmakers like producers, cinematographers, colorists, editors, and more!
A complete introduction to the wonderful world of producing!
5 Lessons

45 minutes of instructional videos
The Art of Producing places you inside the mind of award-winning producer Jamee Ranta. Beginning with how to approach a career in the film and entertainment industry, Jamee shares trade secrets and personal anecdotes from her experiences as a top producer.
Along with the fundamentals of film production, Jamee advises how to work with commercial and music video clients from the bid and budget to handling insurance and managing contracts. She closes the course by revealing how to communicate, negotiate, and manage expectations.
Learn how to create Lookup Tables (LUTs) like an expert!
6 Lessons

1 hour and 15 minutes of instructional videos
Master Colorist Dave Cole demonstrates how to create Lookup Tables (LUTs) starting with their theory. Then, he reveals how he generates his own LUTs as a top specialist in his field and manicures them to work for his specific needs.
Throughout the online filmmaking course, you can expect to learn about the theory of working with LUTs, starting at the basics before Dave details essential tools for your LUT toolset and how to keep LUTs consistent. After that, Dave takes you through how to build a LUT and then breaks down how to perfect the image with digital exposure while working with negatives and handling noise reduction.
A solid foundation for video editors!
8 Lessons

1 hour and 45 minutes of instructional videos
In Terms and Techniques of Editing, editor Joaquin Elizondo (Narcos: Mexico, Dark Winds) sets aspiring editors on the path to success. He does so by revealing basic in-depth editing techniques including various ways to cut a scene, engineering montages, improving audio, and everything in between!
To enhance your understanding of narrative techniques, Joaquin uses scenes from award-winning short films as a reference. That way, you can get the feel of how to edit projects with high-production value.
Confidently power your set with these distribution techniques!
8 Lessons

1 hour and 40 minutes of instructional videos
On Set Power Distribution supplies the crucial terms and techniques you need to succeed in production as a set electrician. Starting with understanding how to operate portable generators, gaffer Eric Forand joins Shane Hurlbut, ASC to explain how to work with on set power distribution along with its nuances from labeling cables to tying in, metering, and everything in between!
Learn storytelling for unscripted television
2 Lessons

30 minutes of instructional videos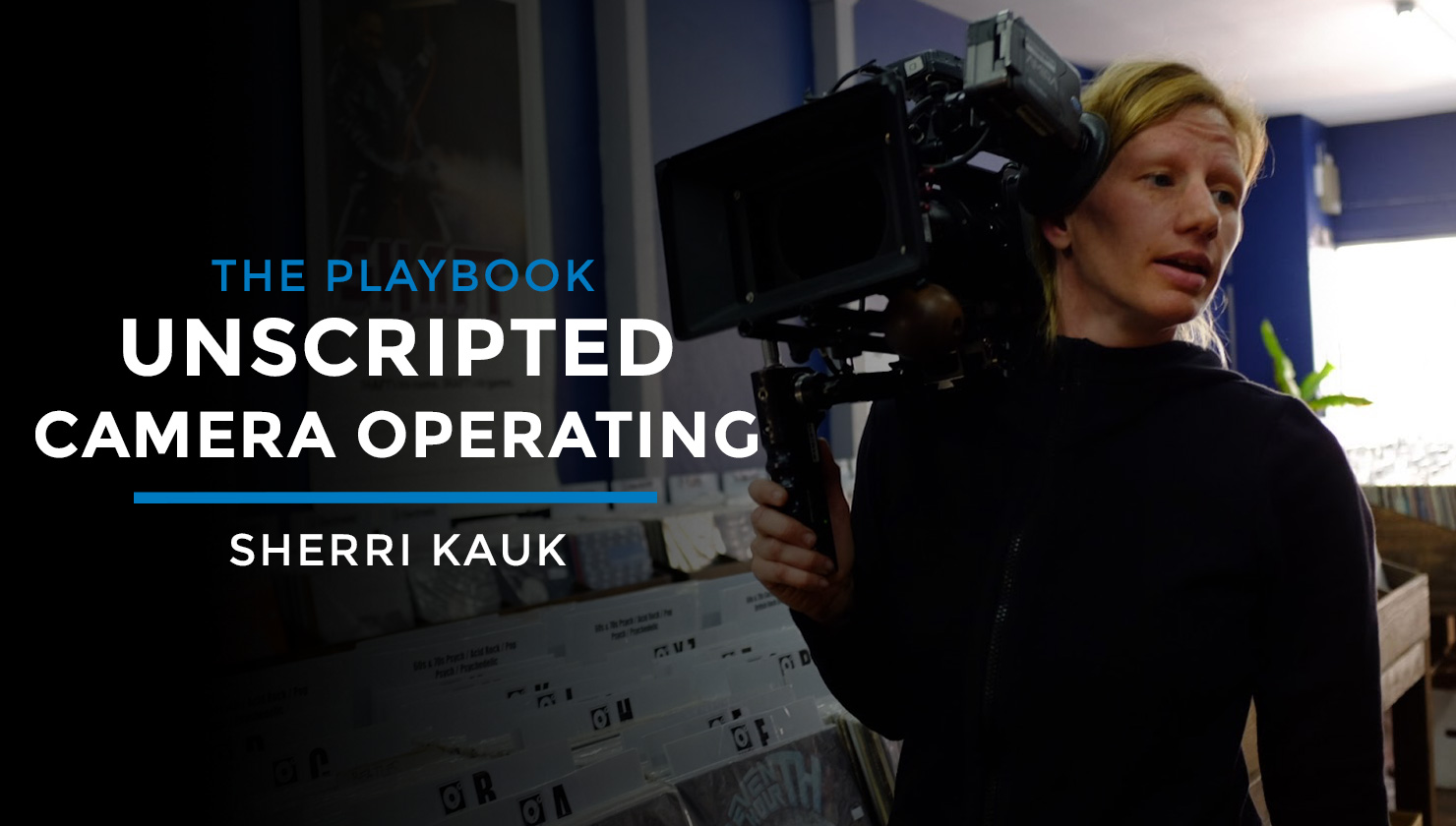 In Unscripted Camera Operating: The Playbook, Cinematographer Sherri Kauk shares her Shooter's Playbook providing valuable insights on techniques and methodologies that she wishes she knew when she first started her career.
Expect to gain critical insights on how to shoot reality TV. You'll learn why it's essential to have a specific reel for each genre or platform that you want to work within. Then, Sherri outlines the key players that have the biggest impact on delivering the story elements for post-production, and how to leverage those relationships in production to get the most out of your footage.
This online filmmaking course explores when to use Man-to-Man versus Zone coverage, the importance of moving your feet and how to get closer to the action of the moment to sculpt the story, obtaining crucial techniques for reaction shots and inserts, and getting the most out of your footage for the production.
TOP 5 LESSONS 
The Filmmakers Academy lessons below provide you with on-the-job knowledge so you can learn filmmaking from home at your convenience. They include online filmmaking lessons in directing, lighting, camera prep, and post-production.
Professionally light green screen for moving talent!
18 minutes of instructional videos

Textbook lesson

English subtitles
In Part 2 of How To Light a Green Screen, Shane Hurlbut, ASC takes you through the process of lighting with two lights, step by step. Assisted by his gaffer, Eric Forand, Shane lights the green screen with various lighting sources, like Cineo HS2s, Kino Flos, and Fresnels.
You're going to learn:
How to use Cineo HS2s with Green Phosphor to light the green screen

How to use Kino Flos to light the green screen

How Cineo HS2s compare to Kino Flos

How to use Floorstanding Fresnels to light a green screen
How To Light Green Screens pulls back the curtain to reveal the proper process so talent can move freely in front of your green screen without a hitch! In this Green Screen series, you'll learn all the latest techniques to rig, expose, and light your talent.
Expertly craft night exteriors for rural and urban lighting
15 minutes of instructional videos

Textbook lesson

English subtitles
In the first part of How To Light Night Exteriors, Shane Hurlbut, ASC explains how he lights moonlight, shaping the light with grey-silver tones. From the kinds of lights to where to place them and how to bounce the light, Shane reveals the techniques he used in such films as Terminator: Salvation.
You're going to learn:
How to light moonlight and achieve grey tones

What light sources to use

Where to place your lights

How to adapt the lights to fit your lighting scenario
How To Light Night Exteriors is a masterclass in cinematically capturing the night in multiple settings. Whether it's urban lighting in the film Fathers and Daughters, minimal rural lighting as seen in We Are Marshall, or lighting rain at night in the series Into the Badlands, Shane Hurlbut, ASC takes his methods and puts them into action! That way, you can see for yourself how such techniques are professionally applied!
Discover how to land the job!
11 minutes of instructional videos

Textbook lesson

English subtitles
In Part 4 of the Commercial Directing Masterclass, Director Jordan Brady explains how to land the job as a director. With over 1,200 national commercials under his belt, Jordan provides advice from dealing with the agency to creating the treatment.
You're going to learn:
How the director gets hired

How to work with the ad agency

About the triple bid situation and how to stand out

How to prep for the conference call with the ad agency

How to create a successful treatment
In Filmmakers Academy's Commercial Directing Masterclass, director Jordan Brady reveals the crucial steps to take to become a working director. Brady reveals how to get hired as a director followed by how to navigate pre-production, production, and post-production, using his work as case studies to facilitate the learning experience.
Learn how to prep a camera like a pro!
10.5 minutes of instructional video

Textbook lesson

English Subtitles
In Part 5 of Camera Assistant Prep, 1st Key Assistant Derek Edwards completes the camera prep in the rental house and makes the final touches to ensure the camera package is ready for the field.
You're going to learn:
How to add a matte box

Connect a Light Ranger 2 (LR2) to the camera and a monitor

Adjust your settings to suit your needs
Derek is in the process of building a basic studio package for a commercial shoot. So far, he's made all of his phone calls and knows the expectations and what his DP wants. He built the camera up, adding wireless video, a focus monitor, and wireless focus, along with a battery and lens, and followed his AC Prep Checklist, check for check.
Now, he will guide you through the rest of the process.
Starting from before you walk through the door of the camera rental house until the last case is snapped shut, 1st Assistant Camera Derek Edwards guides you through the process. In Camera Assistant Prep, Derek highlights AC etiquette, shares useful pro tips, and shows you what to check for in the prep to mitigate issues before they hit the set.
Learn the basics of color grading!
9 minutes of instructional video

Textbook lesson

English Subtitles
In Part 2 of The Foundation of Color Grading, follow along as Colorist Derek Johnson takes you through the hardware components of your computer and determines how each translates to DaVinci Resolve.
You're going to learn:
About the hardware components necessary to get the most out of your workflow in DaVinci Resolve

Key insights about the CPU, RAM, GPU, hard drive, and GPU Status Display
In The Foundation of Color Grading, Derek guides you through the best hardware and shows you how to dial in your settings and use Optimize Media and Scene Cut Detection to maximize your performance. Now's your chance to develop your skills with advanced tools, among other key insights so you can grow into the great colorist you were always meant to be!
When you join Filmmakers Academy and become an All Access member, you receive our entire library of content and filmmaking resources. That's over 800 hours of instructional videos in categories ranging from cinematography to color grading.
Take a look at our full range of categories and disciplines. Plus, as a member, you gain entrance to our exclusive filmmaking community on the FA app, and our private Facebook Group is perfect for networking and getting your questions answered! However, don't just take our word for it. Read what the experts say!
Join Filmmakers Academy today and we will help you master your craft!
https://www.filmmakersacademy.com/wp-content/uploads/2022/09/THUMBNAIL-Top-5-courses.jpg
703
1250
Filmmakers Academy
https://www.filmmakersacademy.com/wp-content/uploads/2021/10/Filmmakers-Academy-Filmmaking-Courses.svg
Filmmakers Academy
2022-09-01 16:49:17
2023-02-07 00:16:45
Top 5 Filmmakers Academy Courses & Lessons