FILM EDITING MENTORSHIP – JOAQUIN ELIZONDO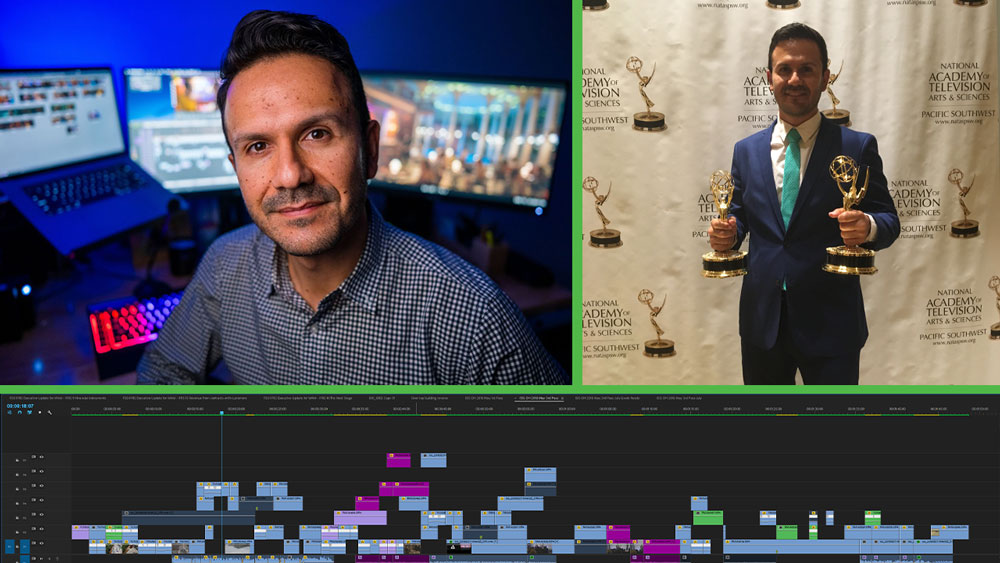 Joaquin Elizondo created Hollywood Editing Mentor because he wanted to share knowledge and help other editors. When Joaquin relocated to Los Angeles, he had been working as an editor in broadcast media for 15 years (since 2002). 
Before even considering a mentorship, Joaquin thought he could reach his career goals alone. However, it wasn't until he started making connections and finding mentors that Joaquin had a realization. He needed their help if he was to progress as both an editor and filmmaker. And through his mentors, he quickly met the goals that once felt so unreachable. 
MONTY DEGRAFF, ACE 
When Joaquin was hired as an assistant on Narcos: Mexico, it was his first full season of a union scripted show. As his first big show, he was super nervous. Joaquin was a huge fan of the original Narcos which focused on Colombia and it was a hit on Netflix, so this was a big moment for his career. 
Joaquin was paired up with Monty Degraff, ACE, an editor who needed a Spanish-speaking assistant. On the first day, Joaquin recollects that Monty came into the office with suits for a photoshoot for the Editor's Guild magazine CineMontage. They were covering him because he was so involved in mentoring people in post-production. In fact, on the cover of the story, it read: "Monty the Mentor." Before that time, Joaquin wasn't really privy to mentorship and here he crossed paths with an editor known for mentoring his assistants. 
Joaquin developed a strong bond with Monty, who saw that he had what it took to be an editor. So, in the first season of Narcos: Mexico, he gave Joaquin the opportunity to earn a co-editing credit as they worked on an episode together. Joaquin returned to the series for seasons two and three, but Monty had other commitments. However, Monty still vouched for Joaquin and called the producers insisting that he was ready to be bumped up to an editor. 
Joaquin learned a lot from Monty. For one, he discovered the politics of the industry and post-production. Monty brought Joaquin into the room during sessions with the director or producer. There, Joaquin sat in the corner and took notes. Now as the editor, Joaquin carries Monty's approach over and invites his assistants into the room. He also learned about crafting stories, collaborating with producers, and the sorts of things that you just don't learn in film school. 
Joaquin edited unscripted for years and didn't initially have the experience with scripted or narrative. It was a different way of framing a story by understanding emotion and characters. That's why it was so important to be in those meetings and watch how Monty collaborated in real-time.
For example, with the script to reference, Joaquin watched how Monty worked through it and implemented ideas and even interpreted the words on the page in a completely different way from him. That's when Joaquin realized that we are all artists who have unique understandings. Previously, Joaquin felt that editing was more technical, but Monty revealed the softer skills of editing that involved more thoughtfulness. 
HOLLYWOOD MENTORING 
Monty was the inspiration for Joaquin's Hollywood Mentoring Program. That's because it was through him that Joaquin learned the true value of a mentor. The Hollywood Mentoring Program is based on Joaquin's previous desire for wanting to work in scripted narrative but not knowing where to begin and being too afraid to take chances. 
In his pursuit to become a scripted editor, Joaquin made lots of mistakes and experienced many tough moments. There were times that he suffered panic attacks and wanted to quit and considered a 'Plan B' career. This was because he decided to turn down unscripted work and documentaries altogether, and only put his efforts into landing a job on a scripted project. Because of this risk, Joaquin went a long time without working. 
With his mentoring program, Joaquin went through the painful process of making mistakes so others don't have to. Now, he is pulling back the curtain to reveal the inner workings of the post-production industry. At first, Joaquin didn't know how crucial networking was to moving forward in his career. He thought it was as simple as going to mixers and handing out business cards. However, what he discovered was that networking is about forging relationships with industry professionals and leaders. This meant that he had to make adjustments, like getting over his shyness. 
JOI MCMILLON 
While Joaquin pursued his dream job, there were times when he would fill in for a week or two on a scripted web series. He also worked on some indie films. Then, he landed a gig on Under the Silver Lake that played at the Cannes Film Festival. Joaquin worked as an assistant for Julio Perez, who is presently cutting Euphoria. How Joaquin got that job was by meeting Oscar-nominated editor, Joi McMillon. McMillon gave Joaquin great advice. She said to not make it about the money but instead get the right experience by working on the right projects and getting the right credits. Then, the money will come after that. 
Now, that was one of Joaquin's problems. He used to make it about the money. He would always want to first think about the rate he was paid but wasn't getting new experience. So, he had to change how he thought about success based on what McMillon told him. He would have never known to take such an approach if it weren't for meeting her at a networking event and telling her how he loved her story and how she became an Oscar-nominated filmmaker. Then, she invited him to a private post-party and that's where he met Julio Perez. 
JULIO PEREZ IV, ACE
Joaquin recounted his love for It Follows to the film's editor Julio Perez and they bonded over Latino-themed films. Then, Julio gave Joaquin his phone number. About a month later, Joaquin was wrapping up a Netflix documentary and had some time, so he decided to reach out to Julio to see if he wanted to get a beer. Julio was busy on a project and said to hit him back up in a couple of weeks. But, then he asked Joaquin if he knew of any film assistants. And Joaquin, having assisted on one film, told him that he was – then Julio asked him if he could start on Monday. So, Joaquin got on to a union feature film as his assistant without needing to show a resume. And it was all a result of networking, following up, connecting, and building relationships. 
Joaquin learned a lot from Julio, like how to be more strategic with picking projects. Finding opportunities is about being strategic. It's better to be frugal and choosy so you're not just taking the next project for the money. You might not work for six months because you're waiting for that one gig that you feel good about. 
GARRET DONNELLY
Joaquin met Garret Donnelly while working on Narcos: Mexico after his time with Monty. Garret needed an assistant for season two and asked Joaquin if he was interested. Like Monty, Garret brought Joaquin into the room and shared personal stories and experiences from the cutting room. Earning your second credit can be more difficult than your first. But Garret was instrumental in Joaquin obtaining that second credit on Narcos: Mexico and getting bumped up to an editor. 
Even when they're not working together, Joaquin's mentors continue to vouch and support him. In addition to guiding and pushing him, they recommend him for gigs and speak highly of him.  
THE ADVANTAGE OF EDITING MENTORSHIPS
Once you reach your goal, as Joaquin has done, it's important to pay it forward. It is his experiences as a mentee that fuel his passion as a mentor. Joaquin understands the nuances of the post-production side of the industry and is eager to share that knowledge with the next generation of editors. 
One side of the equation is gaining knowledge, and that's where most think that they can reach their goal from that standpoint. While that might make sense on paper, it's not really how the real world functions. Mentors help guide your career, navigate politics, and learn what you won't from film school or online lessons. That learned perspective is valuable because let's face it, we tend to see ourselves and our work through rose-colored glasses. A mentor helps you see what you're not so you can make the correction moving forward – rather than continually making the same mistake time and again. 
Now in the mentor seat, Joaquin's mentees like to talk through ideas with him since he understands what they're going through. When you're first starting out, you might ask your friend, parent, or significant other what they think – but it's just not the same as a professional. They don't work in the industry and therefore don't know what is possible or how to provide the advice that will get you from Point A to Point B. 
Remember to ask questions. When working with mentors, Joaquin came prepared with questions. You know, the stuff you can't just Google. The mentor relationship allows you to bounce ideas and questions off of someone who has the experience and answers. 
Every journey is different and there's no set path. What you can do is simply listen to mentors and take in the right information for what works for you and your personal goals. Whether you need to work through ideas with someone, require career advice, or need to vent to someone who understands post-production, do yourself a favor and seek out a professional mentorship. 
https://www.filmmakersacademy.com/wp-content/uploads/2022/07/Joaquin-Elizondo-Editing-Mentorship.jpg
563
1000
Filmmakers Academy
https://www.filmmakersacademy.com/wp-content/uploads/2021/10/Filmmakers-Academy-Filmmaking-Courses.svg
Filmmakers Academy
2022-07-12 19:11:41
2023-01-31 20:03:19
FILM EDITING MENTORSHIP – JOAQUIN ELIZONDO